Read Transcript of RM137: Pennsylvania Supreme Court Denies SORNA Challenge to Whitmayer & Lacombe
On Episode 137 of Registry Matters, we covered a SORNA challenge out of Pennsylvania. These are people who were sentenced more than 20 years ago, and were scooped up into the enhanced registration schemes. The schemes that they signed up for when their convictions happened have changed. The Pennsylvania Supreme Court denied their SORNA challenge.
We also covered some news items related to folks on the registry and then also covered some listener questions.
Our biggest fan in Florida sent in this image of the FYP compliance tank. This is too funny. Thanks Mike!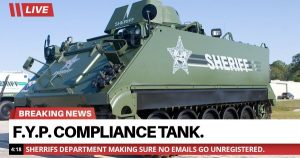 [14:13] https://www.thecity.nyc/2020/7/20/21331595/rikers-island-sex-offender-registry-homeless
[17:35] https://mynewsla.com/crime/2020/07/17/sex-offenders-lose-bid-to-serve-on-juries-judge-rules-all-ex-felons-dont-have-to-be-treated-the-same/
[21:20] https://arstechnica.com/tech-policy/2020/07/ajit-pai-urges-states-to-cap-prison-phone-rates-after-he-helped-kill-fcc-caps/
[26:12] https://www.christianitytoday.com/news/2020/july/sex-offender-welcome-church-abuse-safety-ministry.html
[29:32] Question about some of the nuances of transferring supervision to a new state
[53:47] Whitmayer & Lacombe PA Supreme Court
https://www.registrymatters.co/podcast/rm137-pennsylvania-supreme-court-denies-sorna-challenge-to-whitmayer-lacombe/
Leave voicemail: 747-227-4477
Email us: registrymatterscast@gmail.com
Support us on Patreon: https://www.patreon.com/registrymatters
Follow us on Twitter: Twitter
Join the Discord server: https://discord.gg/DAmupkf
Want to support Registry Matters with some swag: https://shop.spreadshirt.com/registry-matters