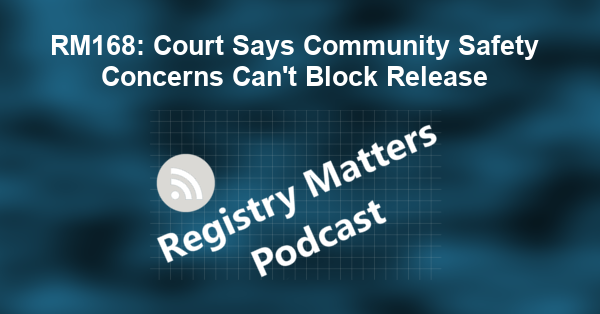 PA Court says FYP to PBPP (Pennsylvania Board of Pardons and Parole) that benefits PFRs
In episode 168, Larry gives us the analysis of a decision that comes from Pennsylvania and it's great news for PFRs. The short version is individuals are being held past their awarded parole date simply because the community is uncomfortable with PFRs being released into their community. These people have been granted parole.
[4:15] Can the FBOP do anything they want to an inmate?
[13:15] The discrepancy of time given to PFR related crimes versus other crimes
[21:58] Followup discussion on contributing to advocacy organizations
[33:59] President Harry Truman and the constitution
[37:13] The Legislative Process
[42:12] Andrew Cuomo sexual harassment
[48:17] Police reform bill in the US Congress
[54:31] Lacey Stratfor et al versus John Wetzel, Secretary, Pennsylvania Department of Corrections
Read Transcript RM168: Court Says Community Safety Concerns Can't Block Release
https://www.registrymatters.co/podcast/rm168-court-says-community-safety-concerns-cant-block-release/
Leave voicemail: 747-227-4477
Email us: registrymatterscast@gmail.com
Support us on Patreon: https://www.patreon.com/registrymatters
Follow us on Twitter: Twitter
Join the Discord server: https://discord.gg/UcpRtqq3At
Want to support Registry Matters with some swag: https://shop.spreadshirt.com/registry-matters
iTunes, Google Play Music, RSS, Spotify, YouTube